The newest MacBook Air (M1, 2020) is a game changer for creatives who have always seen it as a stripped-down MacBook. With the M1 chip replacing the Intel processors and an improved screen, this laptop can edit ultra-high-definition movies and create complex 3D animated scenes. It now rivals the MacBook Pro, making it one of the best graphic design devices.
The MacBook Air, the most affordable MacBook, is no longer a compromise for creatives who want a thin, light 13-inch laptop for film and photo editing. The M1 chip improved speed and battery life, making the MacBook Air the best ever.
Even when editing movies, its fan-less design keeps the MacBook Air quiet. Creatives may want the MacBook Pro for heavier tasks. The M1 chip has finally made the MacBook Air a powerful, portable laptop. Creatives who can't afford the MacBook Pro should consider the MacBook Air. 
As someone who is considering buying a MacBook, I'm pleased to report that the new MacBook Air delivers significant performance improvements compared to its previous model, as well as an impressive increase in battery life. This review of the MacBook Air with M1 will demonstrate why it is one of the best laptops available, without question.

KEY SPECS
Price: Starting at $999 Screen size: 13.3-inch Weight: 2.8 lbs (1.27 kg) Memory: 8GB as standard, configurable up to 16GB Battery life: up to 15 hours wireless web browsing Storage: 256GB, 512GB, 1TB, or 2TB versions Operating system: macOS Big Sur Display: Retina display with 2560 x 1600 resolution, 227 pixels per inch. 400 nits brightness. CPU: Apple M1 chip 8-core CPU Graphics: M1 includes 7-core GPU Ports: two USC-C ports (USB 4 support)
MacBook Air M1 Review: Power and Performance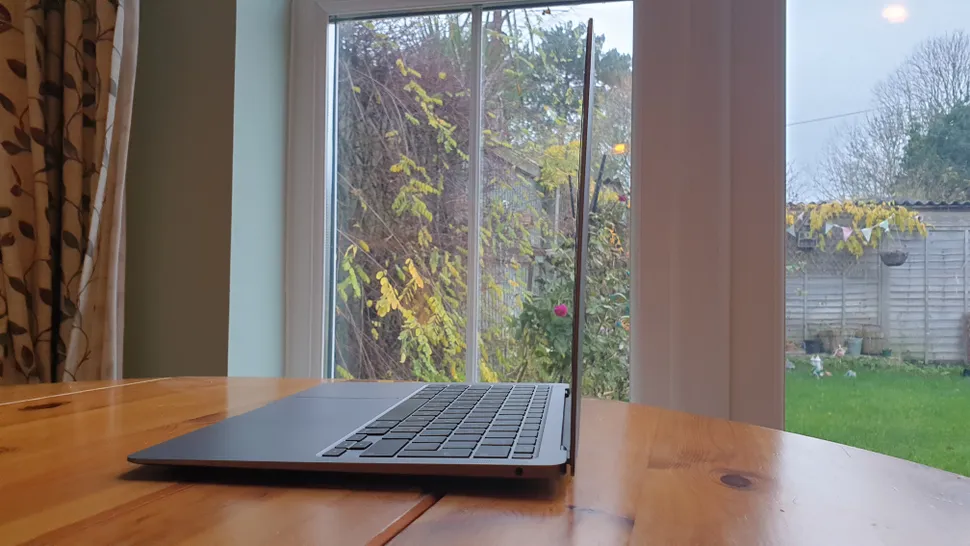 The MacBook Air (M1, 2020) is fueled by Apple's first SoC (System on Chip) for a laptop. However, despite being a new member of the MacBook family, it offers an exceptional computing experience. It operates on the most recent version of macOS, which has been optimized to take advantage of the M1's capabilities, resulting in a fast and responsive operating system. The M1 chip enables rapid boot-up and app launches, as well as seamless performance when switching between multiple applications. In addition, the new M1 architecture does not cause any problems for users of older applications, as the Rosetta 2 utility enables the MacBook Air to run legacy Mac applications without a hitch. In addition, the MacBook Air (M1, 2020) can operate a wide variety of iOS applications for iPad and iPhone, including photo editing tools and games. Even though they were originally designed for touchscreen devices, these applications function well.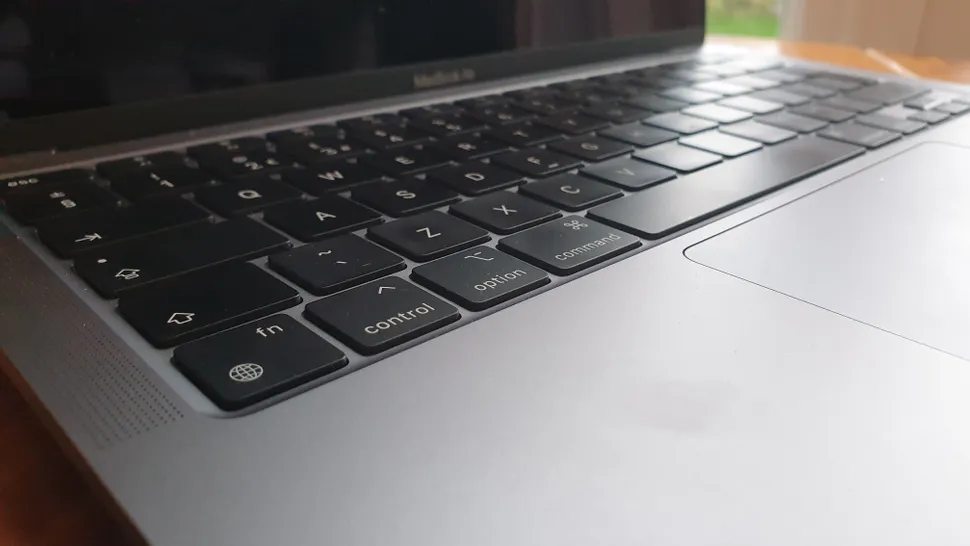 (image credit: Future)
The MacBook Air (M1, 2020) impressed us with its ability to handle more demanding tasks and was not significantly slower than the MacBook Pro 13-inch (M1, 2020) in most cases. This is not surprising given that they both use the same M1 chip, although some versions of the MacBook Air have a slightly less powerful GPU than the MacBook Pro. Synthetic benchmark tests showed that the M1 chip can compete with 11th generation Intel CPUs, and sometimes even outperformed the more expensive 16-inch MacBook Pro.
This is a significant improvement for the MacBook Air, which used to be considered a low-powered and affordable option. It can now hold its own against much more expensive laptops. We tested 4K editing with Final Cut Pro and the MacBook Air performed very well. It was also able to handle 8K footage, which was previously impossible on older MacBook Air models.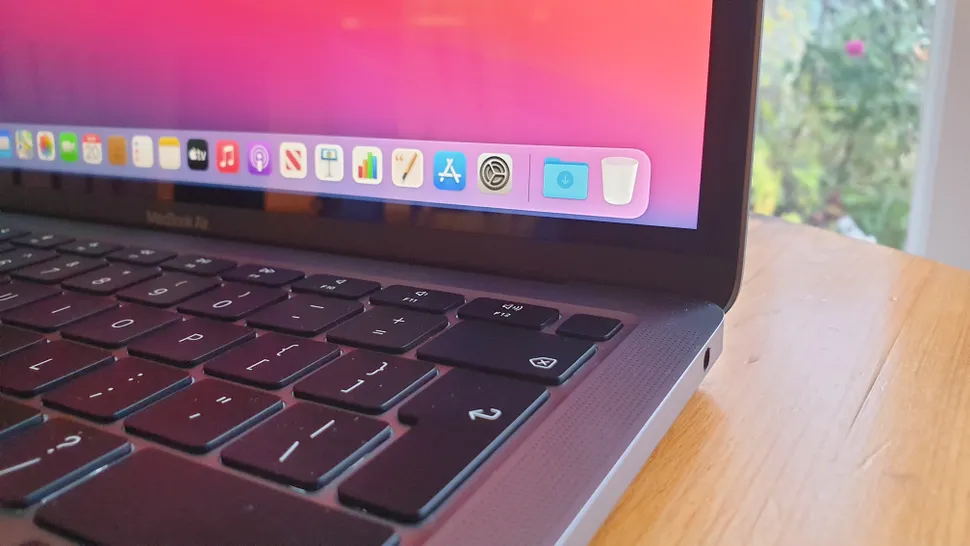 The MacBook Air (M1, 2020) remained completely silent throughout our tests due to its fanless design. We were initially concerned that this might affect its performance during long intensive workloads, as Apple recommends the MacBook Pro 13-inch (M1, 2020) for such tasks since it has a fan. However, we found that the MacBook Air (M1, 2020) was able to handle these workloads impressively well, although it did get slightly hot towards the back.
The M1 chip also delivers impressive speed performance for the SSD storage. We were amazed at how quickly it loaded apps and transferred large files to and from the hard drive. If you work with large media files regularly, this laptop will be a game-changer for you. 
Battery life is also excellent, lasting over 11 hours in our battery life test, where we play a looped 1080p video until it runs out of charge. This is a fantastic length of time, surpassing laptops such as the Dell XPS 13, although it falls slightly short of the new MacBook Pro's battery life.
Overall, we were able to work for almost two full days without needing to charge the MacBook Air (M1, 2020), making it an excellent option for people who are always on the go.
MacBook Air M1 Review: Design
The MacBook Air (M1, 2020) has the same design as previous models, which is a unibody aluminum design that looks nice but lacks some modern features. While the MacBook Air is an attractive laptop, it doesn't have the same wow factor as some of its competitors.
First, let's talk about the good things. The Air's familiar design has stayed the same over the years, thanks in large part to the high-quality materials and careful craftsmanship. Once you have this laptop in your hands, you'll feel much better about spending more than $1,000 on it. The MacBook Air has a stylish wedge shape that is thicker in the back and thinner in the front. Even though 0.6 inches is thin for a laptop, the Air feels even thinner.
In the middle of the MacBook Air's lid is the famous "bitten fruit" logo, which is made of chrome and is surrounded by smooth metal. Apple has done a great job with this simple design, and I'm all for it. When you open the laptop, you'll see a clean top with a big trackpad and black keyboard keys. At each end of the keyboard are speaker grills, and the deck and lid are connected by hinges that are almost invisible.
Apple sells the MacBook Air in gold, silver and space gray. I prefer gold, so much so that I really wish Apple would offer it for the MacBook Pro (which it does not).
MacBook Air M1 Review: Display
The MacBook Air (M1, 2020) appears to have the same display as its predecessor at first look, and you'd be mostly correct. It features a Retina display with a resolution of 2560 x 1600, a 400-nit LED backlit display, and Apple's True Tone technology, which automatically adjusts the color temperature on the screen depending on the surrounding light.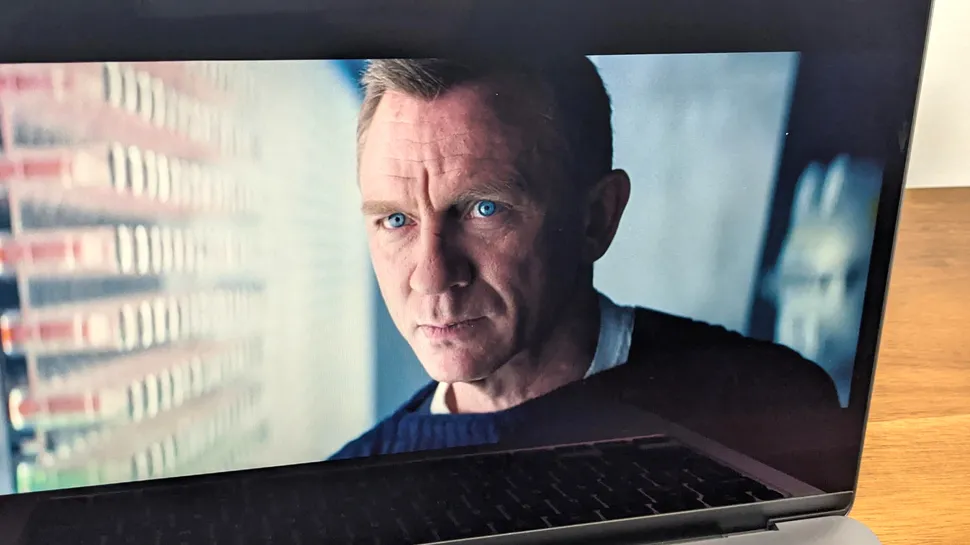 It now supports the P3 wide color gamut, allowing the display to showcase more vibrant, accurate, and true-to-life images. This update alone will be a bit of a game changer for digital creatives.
Previously, only Apple's MacBook Pro line of computers offered P3 support, which is an industry standard for video editing. The new MacBook Air is now a more compelling buy for digital creatives thanks to Apple's decision to bring this to its less expensive laptop.
Therefore, the MacBook Air (M1, 2020) display continues to be excellent, but we do have to point out that there are Windows laptops that offer higher resolutions, touchscreens, and OLED technology, which means MacBooks no longer have the finest screens in the industry.
MacBook Air M1 Review: Keyboard and Touchpad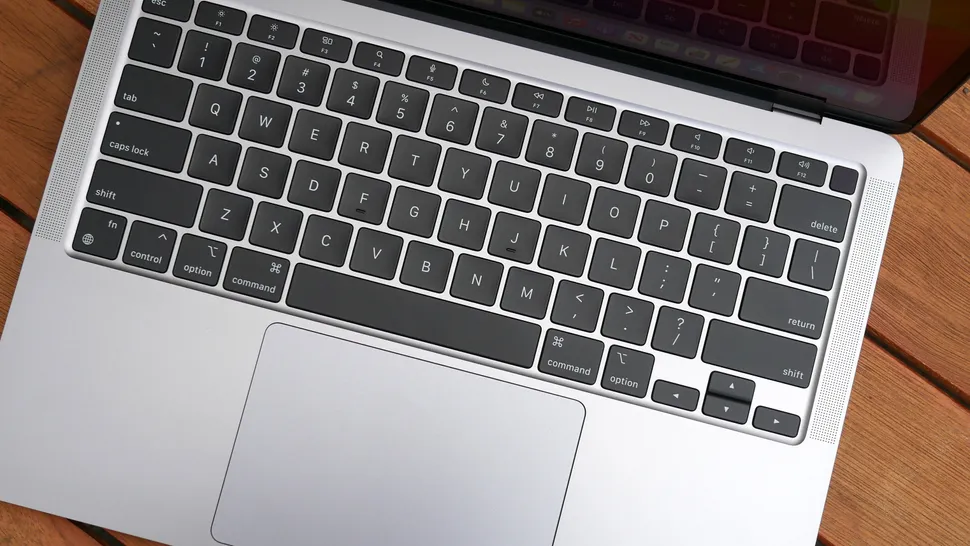 When I tested the Magic Keyboard on the MacBook Air using the 10fastfingers typing test, I was able to type 74 words per minute, which is not far from my average of 80 wpm. This keyboard is a significant improvement over Apple's previous Butterfly-switch keys, which were criticized for being too shallow and prone to sticking when small debris or dust entered the keys.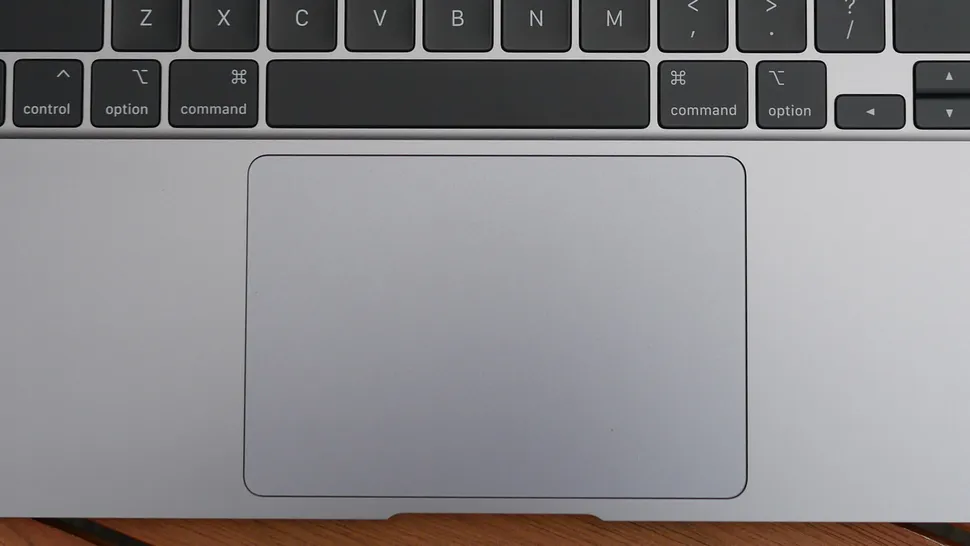 The 4.8 x 3.2 glass Force Touch trackpad on the MacBook Air provides precise input detection and fluid scrolling. Apple continues to forego clicks in favor of haptic input, a move that appears to have been a success (though I preferred it the old way).
MacBook Air M1 Review: macOS Big Sur
The MacBook Air now comes with the latest version of Apple's desktop operating system, macOS Big Sur, which has undergone a major design overhaul. The new interface takes inspiration from iOS and iPadOS, featuring bold colors that contrast with transparent elements, resulting in a visually appealing effect that complements the stunning stock backgrounds on Big Sur. Additionally, app icons have been updated to a new squircle shape, similar to the rounded squares of iPhone apps. More information on Big Sur's top features and significant changes will be covered in a future review.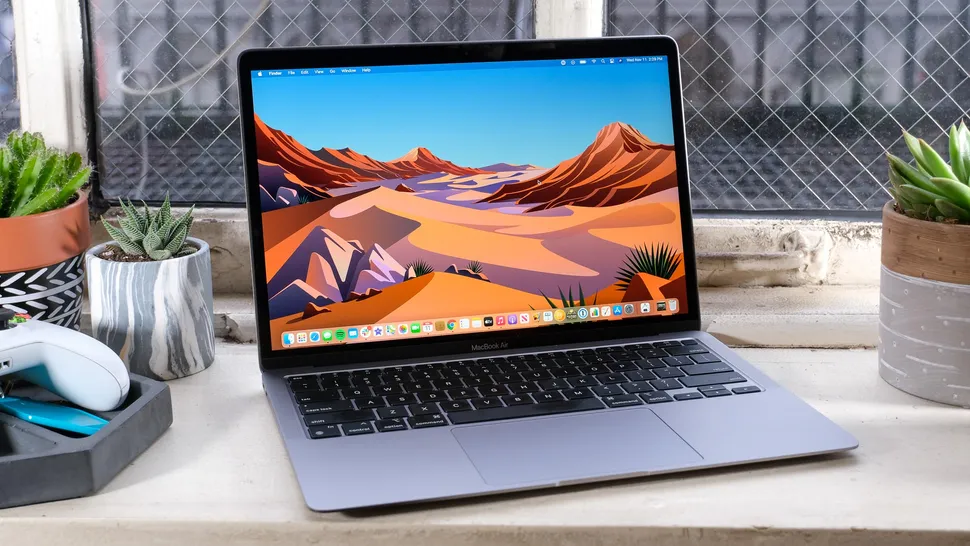 Big Sur, Apple's newest macOS update, includes several iOS features. The Control Center, which lets you quickly adjust Wi-Fi, Bluetooth, and keyboard brightness, is a notable feature. Apple Maps now has Guides, and the Messages app can pin conversations, reply inline, and contact someone by name. Safari has been updated with a customizable start page, faster speed, a language translator, and password tracking. The Notification Center now supports redesigned widgets. Import Chrome passwords and settings.
MacBook Air M1 Review: Verdict
Reviving a laptop. Apple's M1 CPU is a Midas processor. With its new engine, the MacBook Air goes from a weak laptop to one of the fastest notebooks on the market, not just in its portable sector but overall. With 14+ hours of energy life, you can easily last a day or two.
The fanless MacBook Air with M1 has the best power-to-endurance ratio. A gorgeous new OS, webcam enhancements, and better iPadOS and iOS integration (including mobile app support) make the laptop my top pick. The new MacBook Air starts at $999, even though all these enhancements should cost more.
The MacBook Air is the fastest laptop, but I wish Apple had updated its look. The Dell XPS 13 and other bezel-less laptops are thinner than the Air. If you hate dongles like I do, having only two Thunderbolt 3 ports on one side is annoying.
The MacBook Air is the fastest, longest-lasting ultrathin laptop.
The Review
MacBook Air M1
The MacBook Air now has the speed and battery life to beat the best PCs.
PROS
Improved webcam
Remarkably fast performance
Amazingly long battery life
Strong legacy app support
CONS
Light on ports
Still has thick bezels